They emailed Beauty Insiders (which I am) this coupon where you save $15 off $35 or more... So of course I used it but I didn't get as much as I would like... :( But here they are:
Nars Blush in Mata Hari (matte pink). Nars Blushes are HG for me. Orgasm is the best blush in the world and that all girls should own it (IMO). LOL. This Mata Hari is a bit more pigmented than the orgasm so a little goes a long way. Overall, I love it obv. :)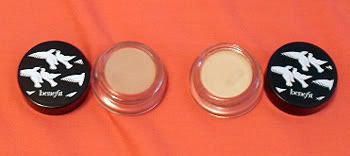 Benefit Creaseless Cream Shadow/Liner in Honey Bunny and in Recess. They're basically both nude colours which would be awkward to use as a liner unless you put a different colour eyeshadow on top to make it look brighter. But this is a good base (not a primer!) because it is sort of like a MAC paint pot. I wouldn't know the difference though because I don't own a paint pot from MAC.
Then since it is my birthday month, they gave me my birthday present (because Sephora is awesome like that):
These glosses are actually good. They all have a different smell which I like.